Taking a look back at my travel month, I would say that I spent it the best possible way. There is no right or wrong way to do it, but so many au pairs ask me how to spend it and for how many days. That is all up to you! I spent mine with my best au pair friend and even though I only used 14 days of my travel month, I made enough memories to last me the rest of my life! I hope you can take my experience as inspiration.
Since I arrived in the USA in August 2016, my travel month was scheduled for August 2017—which was the perfect time for warm summer days! I have always been an outside girl, so I knew that I wouldn't want to spend my time in hotels. Therefore, I thought a road trip would be great. I had made a bucket list in the beginning of my year and when my year came to an end there were still so many things on my bucket list that weren't checked off. So how are you supposed to check off as many things on your bucket list as possible in a short time when all your spots to visit are placed in different states? Well … you go on a road trip with a great team and your best au pair friend. I found a travel agency called Trek America and to be honest, it was amazing!
My best friend and I didn't want to go on a road trip on our own, because of the expenses and because planning and being allowed to enter the different national parks would take a lot of time. Also, we didn't want to spend too much money. The cheapest and easiest way for us to do it, was to travel with Trek America. We had a lot of contact with Trek America months before our departure, and we had a list of treks we could join but we chose the trek called "Mountain Trail." This trek was going to take us to 8 different states in only 14 days—but most importantly, it was going to take us to all the places we wanted to! We were scheduled to start in Seattle, WA, so Greta (my best friend) and I went there to explore the city two days before the trip started. We stayed at a hostel and got to see the beautiful city before we were going to spend 14 days in a tent, driving in a bus for hours, hiking, and climbing.
Day 1: Seattle to Montana
On the first day, we got to meet our group which consisted of people from England, Korea, Germany, Denmark, and Switzerland. After this we met our tour guide and he told us about all the rules, what was going to happen and how to put up our tent. We went to the bus and drove all the way to Montana where we made food together before sleeping in our tent for the very first night. It wasn't easy to put up our tent for the first time but thankfully it became very easy after doing it two times!
Day 2-3: Yellowstone National Park
I looked forward so much to these days! I will always love the mystery of Yellowstone. We saw wolves and even heard them at night while sleeping. We found a herd of bison, found the canyon of Yellowstone and had lots of fun making a bonfire in the evening. We saw so many things in Yellowstone and became junior rangers, so we got a cool badge. We saw the geysers and got to know so much about the active volcano buried under the park. I love that place and I would go back any time. I call it the mystery of the world! Be prepared to be amazed by this place—I think this is something everyone should see! But please be careful, the nature there is so beautiful and fragile.
Day 4-5: Grand Teton National Park – Jackson, WY
After a few days in Yellowstone we packed our stuff and said goodbye to the mystery of the world, but it lead us to a new beautiful place in Jackson very close to the Grand Teton National Park. We arrived in the afternoon of day 4 so we spent most of the time in the city. We went out for dinner and had some shopping time, too. Some of us went to a rodeo and the rest of us went to go looking for animals and see the pretty nature. Day 5 we woke up early to go rafting on the Snake River. The water was super cold, but the rafting trip was so much fun with waterfalls and pretty views! At night we made dinner together, and those over the age of 21 were able to go out after. On day 6, we went on a hike around Jackson Lake and on the boat ride home we saw a bear with her baby!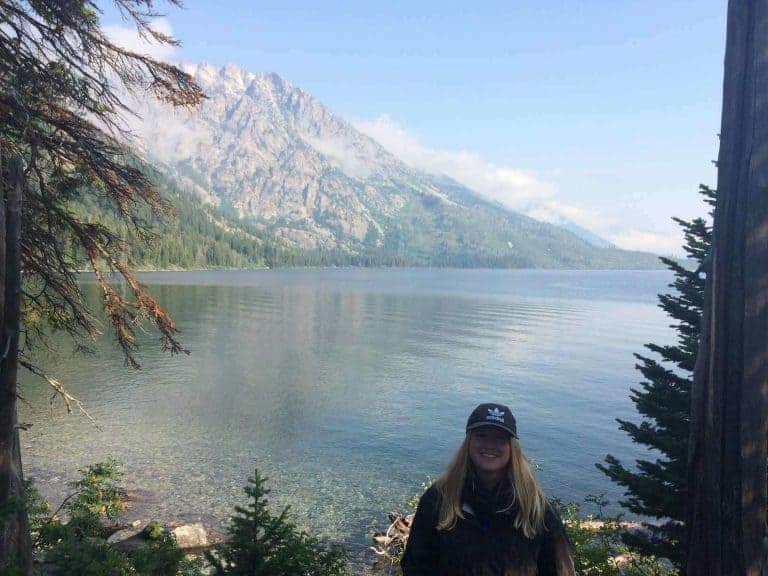 Day 6-8: Arches National Park – Moab, UT
We spent most of day 6 driving through Flaming Gorge until we came to our camp site in Moab. This was actually the first time we got to feel the heat, and I had really missed feeling hot and warm. We made a short visit to Arches National Park before putting up our tents and getting some sleep. Day 7 we spent hiking around Arches National Park for hours! I am convinced that if there is a paradise on earth it must look like Arches National Park. The nature there is out of this world! The rocks are weirdly shaped but it is sooo precious! It was a bit of a challenge for me to climb all those rocks since I am afraid of heights, but my group was so supportive—and I am so grateful that I went and did it anyway! Day 8 we went to see the beautiful sunrise at the Park and then we spent most of the day by the pool and exploring the small village of Moab.
Day 9: Monument Valley – UT
We went to the Monument Valley very early in the morning. At the park we got to take pictures and explore the visitor's center before meeting our guide named Wayne. Wayne is a part of the Navajo people living in Monument Valley. They live under old tradition, although they do drive a car—but most of them live outdoors in caves and they even make their own clothes. Wayne took us through the park in a jeep—it was a very bumpy ride, and he told us about everything in the park and even played a little song for us. We had so much fun with Wayne that it was hard saying goodbye to him later that same day. The group then got split in half (by own choice of course!)— half of the group stayed for a sleepover with the Navajo people, and my half of the group went back to our tour guide and watched the sunset (which by the way, was the prettiest sunset I've ever seen!). We slept in our tent and woke up just in time to see the sunrise. After eating our breakfast, we were reunited with the rest of the group. After this, we went to…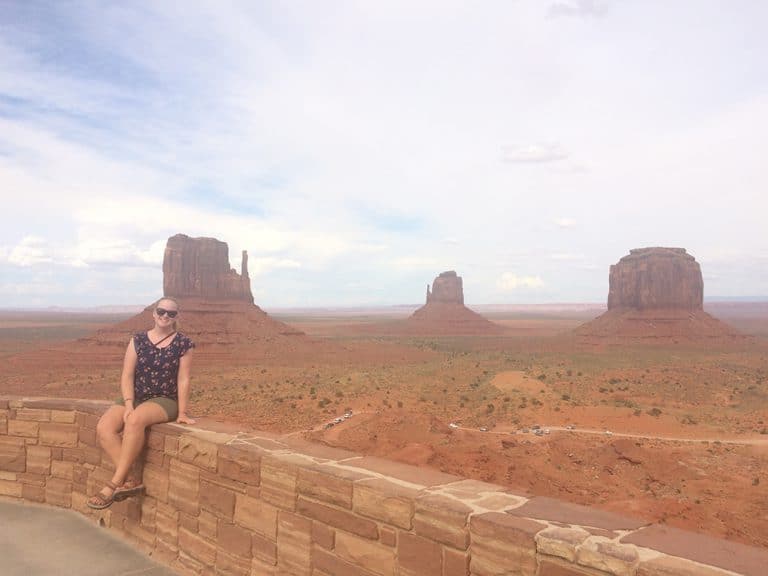 Day 10-11: Grand Canyon National Park – Arizona
We arrived at the Grand Canyon in the afternoon. A guide blindfolded us and took us the edge of the Grand Canyon—we took our blindfolds off, and WHAT A VIEW! We explored this part of the park until heading to our camp. We all had fun at night before getting a good night's sleep. Day 11 we woke up early and we had to decide with trail we wanted to hike. Myself, Greta and another girl decided to take the Bright Angel Trail, and although we later found out that we made a huge mistake, it was still a victory! We took the second hardest trail without knowing it. The trail went from the top of the canyon to the bottom and back to the top again. It has to be the hardest thing I have ever done to this day, but after 6 hours and 20 minutes we had done the trail and were back at the top again. It was such a challenge and not many people get to do this—but we did, and this is something I have never stopped talking about. I CLIMBED THE GRAND CANYON! The rest of the group took an easy trail, so they spent the day taking pictures and visiting the center. Some even took a helicopter ride. Our guide took us all to see the sunset at a private place where no when else was. We were just sitting there, watching the sun disappear in the canyon. What a moment!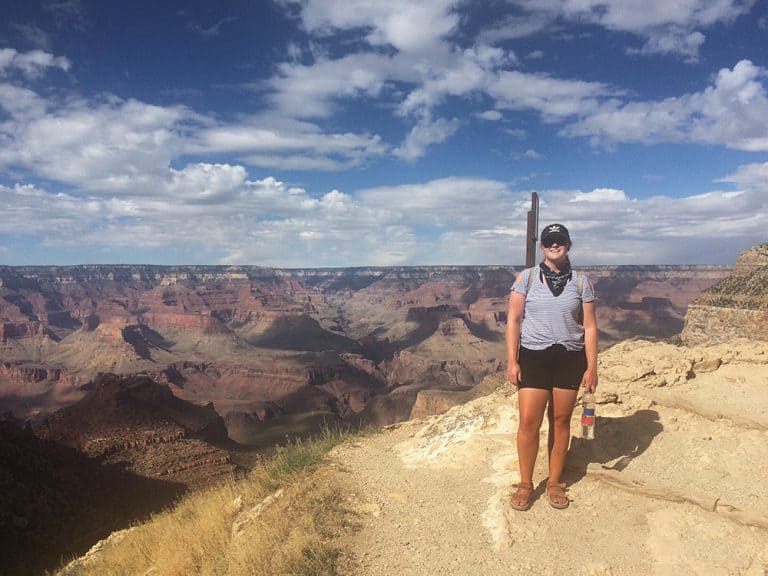 Day 12 – 13: Route 66 – Las Vegas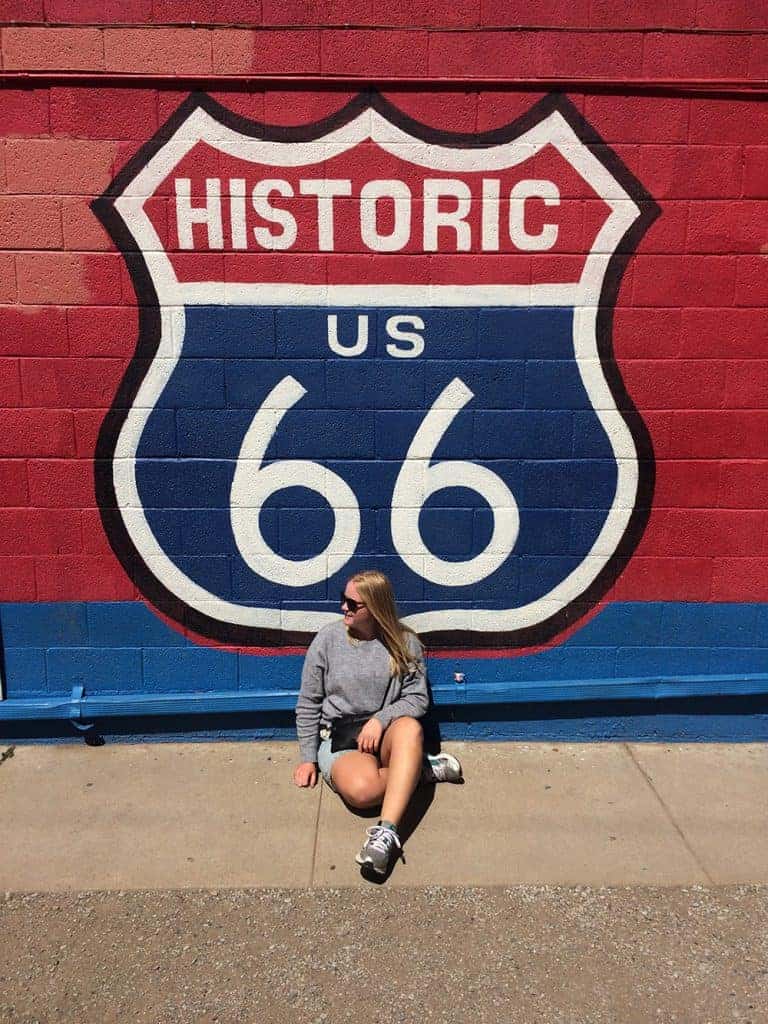 One of my biggest dreams came true this day—driving on Route 66! It was so much fun. Although the road leading us to Vegas was long and hot, we had a few stops along the way. We took endless pictures and went to eat lunch at a diner before heading to Vegas. When we finally got to Vegas we saw beds and showers for the first time in two weeks and that excitement was real! We stayed at the Golden Nugget in downtown Vegas and had a swimming pool and a great view over the city from our hotel room. We were living two people in each room, so we had plenty of space!We explored downtown during the afternoon and at night, we went on a party bus and had a lot of fun! We went to the chapel to visit Elvis, saw the Las Vegas sign, the water show, and later in the evening we went to the clubs. Day 13 we spent by the pool and in the city. All the girls went for dinner and later to see the Chippendales. We then met up with the boys to explore the rest of Vegas before heading home to the hotel to pack. I love Vegas and I would no doubt return to this place!!
Day 14: Las Vegas – Los Angeles
Our final stop on this trip! We went straight from Vegas to LA. We saw the Hollywood sign from a distance and went to the walk of fame. After only a few hours in Los Angeles it was already time to say goodbye to most of the group. They left one by one, and when we were only 6 people left we went to Hermosa beach to have dinner. Later we all got dropped off at different places. Greta and I were the second to last to leave.We had to go to our hostel and it was actually hard saying goodbye to all these people knowing it was our last time together.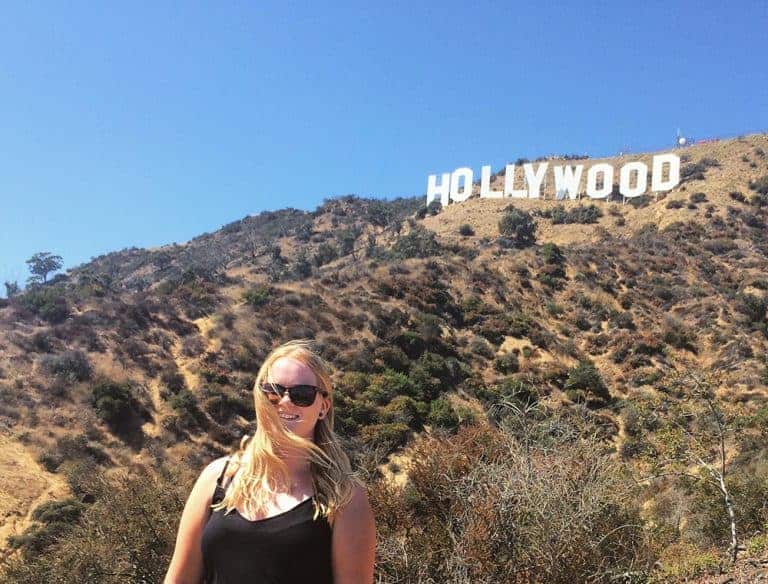 Greta and I stayed a few extra days in LA. We wanted to hike all the way up to the Hollywood sign and wanted to see so much more of the city. We went to a museum, went out for dinner, and took a few more walks down the walk of fame. We went shopping and got the last pictures together before it was time for us to go each our own way. Greta was going to Germany and I was going to Denmark. She left one day before me, so I spent some time exploring the city on my own before leaving the day after her. I returned to Denmark August 21, 2017 and surprised my entire family and all my friends. Only my sister and best friend knew I would return earlier than expected, and the look on my family's faces when I walked up the driveway was priceless. Their reactions were just heartwarming!
I really had the best travel month anyone could ever ask for and I would do almost anything to go back in time and experience it all over again!
Should you have any questions, get in touch via my social contacts listed below!