Traveling in America is a huge part of the au pair experience! It's a way to see a new corner of the world, learn about different states/cities and what makes them unique, and to meet new people from all walks of life. Exploring the USA gives you understanding into what it means to live the American way of life, and helps you make memories to last forever.
The USA is a huge country. There's so much to see! One of the best ways to see a big chunk of it is by taking a road trip. There are countless routes you can take that will allow you to drive through various combinations of states, but here we've narrowed it down to our top 3. Grab your friends, rent (or borrow!) a car, make a playlist and get ready for an epic road trip!
Idea #1: Pacific Coast Highway
California's Pacific Coast Highway (Highway 1) is a classic American route with gorgeous views and winding turns. It's a road trip that should be on everyone's bucket list—and with good reason! It's hard to beat hours of scenic beauty, cruising along stunning bluffs overlooking the Pacific. Not to mention the designated vista points for sparkling ocean views.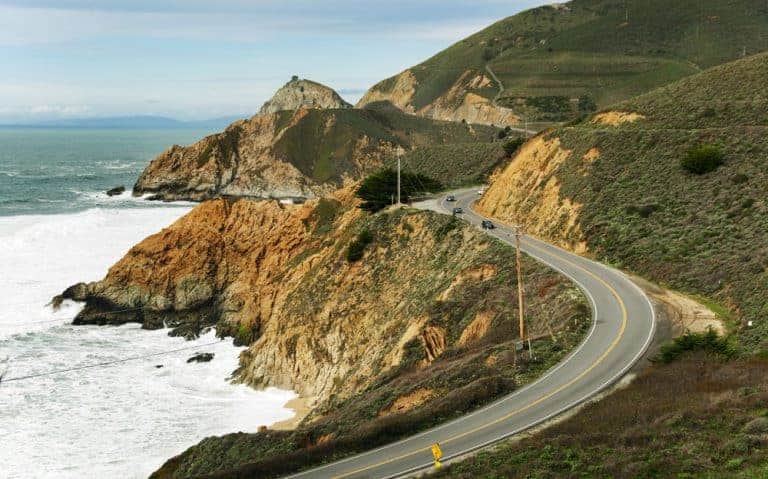 The route is also spotted with worldclass restaurants, beaches, and attractions that provide something fun (or delicious!) for everyone. For the ultimate Pacific Coast Highway road trip, we recommend starting in Northern California in lovely San Francisco. Let's say you're departing in the morning—you're going to want to make sure you grab a hearty breakfast before you hit the road! Consider starting your day with breakfast at the Ferry Building Marketplace, which is home to artisanal bakeries, cheese shops, cafes and even a mushroom shop!
On your way south from San Francisco, throw on some classic, beachy tunes and sing along with your friends as you soak in the California coastline. Pictures are a must!
If you've left San Francisco by breakfast time, you'll hit the Bixby Bridge in Big Sur by about midday. After approximately three hours in the car, this is a must-stop for a leg-stretch and—most importantly—a photoshoot! As soon as you hit the section of the Pacific Coast Highway that connects Carmel-by-the-Sea to Big Sur, you'll start seeing vista points where you can pull off the road and take photos. There will definitely be other tourists getting out of their cars to take pictures—join them and snap away! You'll never see a landscape like this again.
For lunch options around Big Sur, we recommend Nepenthe (which serves sandwiches and salads in a rustic, 1940s lodge) or the Post Ranch Inn's restaurant Sierra Mar, which offers a $55 prix fixe lunch menu and the opportunity to dine at one of the world's most gorgeous views.
Continue your road trip down Route 1, stopping at the Elephant Seal Rookery at San Piedras Beach in San Simeon. Did you know that over 15,000 elephant seals migrate there every year? Spend some time on the viewing platform to watch them in their natural state, flopping about in the sand and sun.
We recommend you finish your trip in Los Angeles—but not without a stop in Santa Barbara for some rest and relaxation. It's a great place to hit the beach, grab some food, or even spend the night, if you want to break up the driving! If you do decide to get some shut-eye, we recommend staying at The Goodland, a retro-inspired Kimpton Hotel just outside the city.
Once you arrive in Los Angeles, be sure to check out the many sights and attractions, from Rodeo Drive to the iconic Hollywood Sign. The city of angels is a perfect way to end a gorgeous road trip down the 659 miles of the Pacific Coast Highway.
Idea #2: Blue Ridge Parkway
Controlled by the U.S. National Parks System, the Blue Ridge Parkway is a 469-mile drive that connects the beautiful Shenandoah National Park in Virginia to the Great Smoky Mountains in North Carolina. The road trip will take you on a cultural tour of the region's living traditions—from Appalachian crafts and music, to Cherokee traditions, to fascinating agricultural history.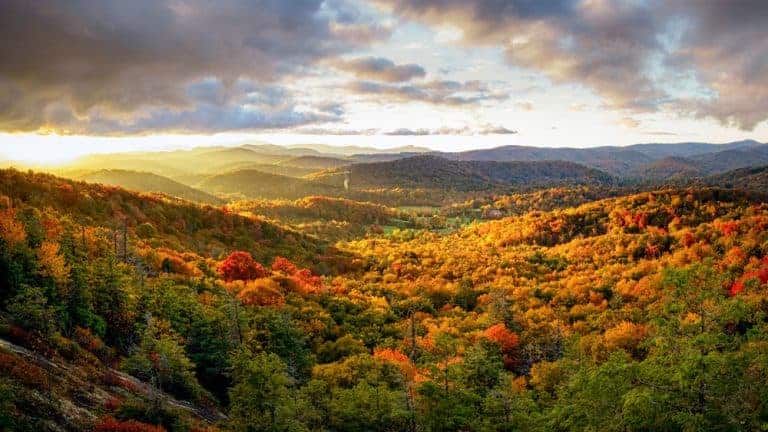 The serpentine route gives drivers a chance to take their time and soak in the beauty of their surrounding. There's a strictly-enforced speed limit of 45 mph, which at some point is lowered to a mere 25 mph—so be slow and careful! You'll be thankful, though, for the speed limits—a slow pace is prime on the Blue Ridge Parkway, especially in the fall when the foliage is among the most colorful and beloved in the country.
Many recommend making the drive during October, the roue's peak visiting month. If you're a leaf-peeper, you'll want to set aside a day or two to check it out. Thousands of visitors come from near and far to get a glimpse of the scarlet sourwoods, the orange sassafras and the golden poplars on display.
No matter when you go, start your journey in Virginia at Shenandoah National Park, milepost 0, near Waynesboro, Virginia. On the drive south, you'll be in awe over the panoramic views of the valleys on both sides of the parkway. As you traverse the twisting and curling sections of road, the views (and colors!) get better the closer you get to the Black Mountains in the south.
The Blue Ridge Parkway concludes at the Great Smoky Mountains National Park near Cherokee, North Carolina at milepost 469. Stop anywhere along the route to take gorgeous pictures with your friends, but be sure to follow National Park Service rules for the highway and parking. Rules along the parkway include no swimming in lakes or ponds, no hunting, no pets without a leash and no fires, except campground or picnic area fireplaces.
What to do along the way? Aside from seeing some of the oldest mountains in the world, as well as Whitewater Falls and Linville Gorge, you'll want to visit Mabry Mill, Little Switzerland, and McCormick Farm. Mabry Mill at milepost 176.2 gives visitors a special glimpse into early pioneer life. The mill itself is the most photographed site on the entire parkway, so make sure you get those selfies! Aside from taking great Instagrams, you can encounter the sawmill, the blacksmith shop and a water-powered gristmill.
In Little Switzerland, you can find an unexpected taste of European mountain culture! Located at milepost 334 in North Carolina, this Appalachian Mountain town is named for its scenery that strongly resembles that found in Switzerland. Here you'll find resorts and shops with a Swiss theme. Great food, too!
Last but not least, make time in your road trip for McCormick Farm in Steeles Tavern, Virginia. It's a slight detour off the parkway (west on state Route 56), but it's a special spot. Here you can take a tour of the blacksmith shop, gristmill, museum and scenic site where the mechanized reaper, which triggered the Industrial Revolution, was invented.
Idea #3: The Deep South
Taking a road trip through the deep south—from Charleston, South Carolina to New Orleans, Louisiana—is an opportunity to take in the rich history and cultural traditions that help define America at its very roots.
Start in beautiful Charleston, savoring the flavors and sights of this iconic city. Spend some time sunning on the beach or even getting a tee time at one of the many outstanding golf courses. Check out FIG for a refined Southern bistro & bar feel, or Slightly North of Broad Restaurant, a popular eatery set in a 1700s building.
Once you've had your fill of Charleston, drive south for a little over 100 miles—approximately 2 hours—to Savannah, Georgia, one of the most charming and beautiful cities in the country and a popular tourist destination. Walk gorgeous tree-lined roads, eat classic Southern fare at iconic spots like The Olde Pink House and Zunzi's, and explore old plantations to understand the area's complicated and important history.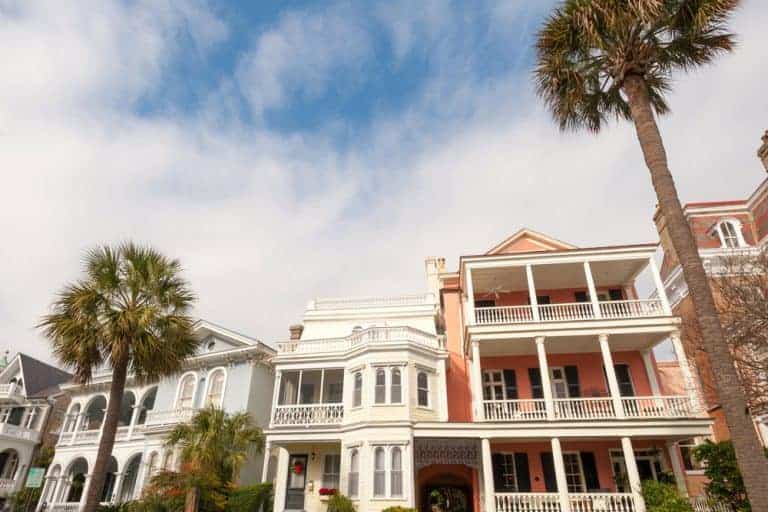 The road trip continues through Atlanta, Georgia and Mobile, Alabama—both cities steeped in Deep South pride—all the way through to Selma, Alabama, where you can pay a visit to the Old CahawbaGhost Town just outside the city on the Alabama River. Before you leave Alabama, stop by the famous Edmund Pettus Bridge outside Selma—this is where Dr. Martin Luther King Jr. and marchers were met with violent resistance in the Selma to Montgomery march. The bridge is an important landmark in American history, and a crucial part of America's civil rights protests in 1965.
Finally, end your road trip in New Orleans, where you can visit the iconic French Quarter, see riverboats, enjoy live music and eat truly delicious food. For incredible and unique dishes, wine and outdoor seating (along with live jazz music!), check out Bacchanal Wine & Spirits. Grab some classic Creole creations at Elizabeth's restaurant and of course, don't you dare leave New Orleans without trying a beignet (fried dough!) at the famed Café Du Monde.